Listening to the Sound of Kentucky

Strangely enough, Jennifer Cramer was a math major at the University of Kentucky when she first became infatuated with the art of language. Following this infatuation, which was ignited in her undergraduate French classes, she quickly shifted her major to French, but once she was there, found there was still something missing in her academic focus.
"Someone suggested I take a linguistics class," recalls Cramer, who is now in her second semester as a lecturer in the University of Kentucky's Linguistics Program. "I took the intro class and just fell in love."
Like many undergraduate students, Cramer entered her first linguistics class rather blindly, without a full understanding of what the program entailed. The scientific study of human language – what did that even mean? As she soon discovered, linguistics is an interdepartmental program at UK, drawing faculty and influence from a variety of departments, from Moderen and Classical and Languages, Philosophy, English and Hispanic Studies. With sub-fields that include syntax, phonetics and sociolinguistics, Cramer soon found the program to be a perfect amalgam for the mathematical side of her brain and the more artistic side that led her to pursue language in the first place.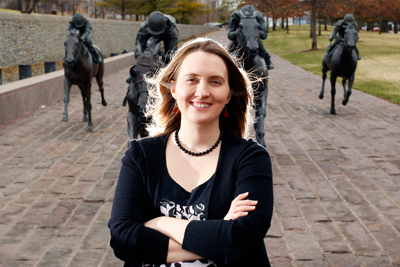 While her experience has shown that many linguistics majors are academic-types, who go on to pursue graduate work in the subject and to teach at a post-secondary level, she points out that there are lots of openings in the occupational world that a linguistics background can serve quite well, from marketing and advertising to artificial intelligence – consider the linguistic programming that must have gone into Jeopardy's recent "computer whiz" victor, Watson, for example. Beyond that, students wishing to teach ESL, or to go abroad and live, teach or work in foreign language policy tend to benefit greatly from a linguistics background.
"It's becoming more and more important that people are globally aware," she said. "People have jobs that are globally connected."
After graduating from UK with a double degree (Linguistics and French), Cramer went on to pursue her master's in linguistics at Purdue University, followed by a Ph.D. at the University of Illinois at Urbana-Champaign, where she completed her doctoral work in December 2010. Having returned to UK and come full circle in her academic career, Cramer is excited to impart the perspective she gained from the linguistics programs of the other two universities onto her alma mater.
"There's something to be said about coming home in an academic sense," she said.  "Anything that I can bring in from my experiences outside of the state is something that I think this university appreciates."
Though still relatively new to the program's faculty, Cramer is in the process of developing a new sociolinguistics class for UK's program, centered on language in Kentucky. In preparing for the course, she's drawing from her doctoral work, which focused on the production and perception of regional identity in Louisville, the city in which she grew up.
"If you think about where Kentucky sits, as a whole, it is kind of in the middle," she said. "A lot of that seems to show up in the speech of people in Louisville, because they want to call themselves Southern sometimes – but then sometimes they don't.
"There are lots of reasons for that," she continued. "Southern speech is often stereotyped as ignorant and uneducated, and because of that people don't want to associate with it. But it's also friendly, and (associated with) lots of family values, which are positive things."
Dichotomies such as this are common in Kentucky's history, and can often be traced to the state's middle-of-the-road geographical positioning – Cramer points as far back as the Civil War, when the state was host to key figures from both the Confederacy and the Union. Sociolinguistics maintains the importance of cultural and geographic factors like this in studying the language of a people or a place, and likewise, that language can reveal much about the social subtleties that lie beneath the surface. To that end, Cramer's research has dealt with specific phonetic details of her Louisville subjects' speech, but also with the actual perception of what "Southern" is.
As for nailing down what "Southern" actually is – and if Louisville or Kentucky as a whole fit the bill – that remains open to individual interpretation. Cramer is just glad to be giving these anthropological and cultural curiosities of the state some overdue academic focus.
"The linguistic research in this state has been kind of minimal – there are lots of bigger studies that focus on bigger cities, but I am anxious to get more people involved and interested in what's going on in Kentucky," she said. "I try to do that every time I go to a conference."
story by Saraya Brewer
photos by Mark Cornelison