Seung-yeon Yi

When her lifelong goal of becoming a zoologist began to fall apart early in her college career at Sogang University in Seoul, South Korea, Seung-yeon Yi felt academically directionless. "I basically failed. I tried really hard but I couldn't get good grades and I thought I had to take a break and just look at myself and just try to find my purpose." During that period of searching, Yi persuaded her family to allow her to travel to the United States, where she planned on doing service work with the Christian organization Youth With A Mission (YWAM) learning English and traveling to different countries. 
"Since I was a little kid, studying language and English was my thing. I used to carry around my notepad and study English," Yi explained, "I liked English and learning language but I didn't think of it as something that I would stick to in my academic journey because I always thought of life science and biology." During her time traveling in the United States, India, and Brazil, Yi began to realize that her love of learning English could become part of her academic life, and soon switched her major in Korea to American and British Languages and Literature.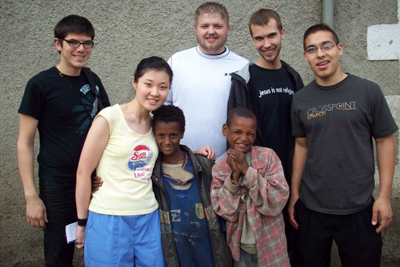 Her time abroad provided her with a year of intensive language learning. "The experience with people from various countries was linguistically very challenging, and gave me a lot of questions to ask. That experience helped me to like my major even more." During her last semesters in Korea, Yi was first exposed to linguistics. "When I was learning the theories of linguistics that explained the mistakes that I had made with native English speakers—learning came to be alive."  
"I fell in love with linguistics," she says of the time she spent finishing her degree in Korea after returning from her trip with YWAM. "For the first time in my life, I could enjoy my college academic life: that was a big change." After marrying her husband, a native of Kentucky, Yi returned to the United States. She then started seeking out universities where she could study linguistics, which led her to UK. "I was looking for opportunities to study theoretical linguistics, and UK had a major in linguistics as a bachelor's degree. So I decided to transfer to UK—which turned out to be awesome."
When she first began studying linguistics at UK, Yi took a typology class with Gregory Stump. She has since worked closely with Mingzhen Bao, who specializes in phonetics, and Rusty Barrett, who encouraged her interest in phonology and endangered languages. In contrast to her academic experience in Korea, "Here professors are really approachable and I'm thankful for that. You learn by asking questions, and they're there when you need to ask questions, and are open to that." While at UK, she also gained exposure to diverse language data while learning the differences and similarities of the languages of the world.
"Studying at UK really increased my interest and love and passion for language in general, not just English, not just Korean, but in general. By studying language you get to work with a specific group of speakers and it's not just learning about language but learning about culture and people—and I like that idea."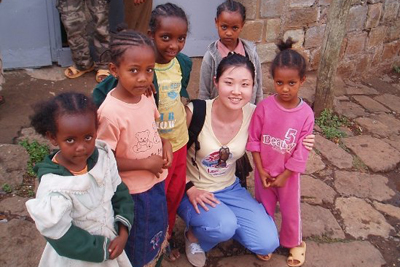 Another idea that Yi likes is Ethiopia: the geography, the people and the languages of that place. In 2009, she and her husband led a service trip there: "When we got married we said that we wanted to go to Ethiopia. That's just one place that we had in common—we had Ethiopia in our hearts." Academically, Yi's interest in Ethiopia extends, of course, to the linguistic diversity of the country. For a Korean English-speaker, it's a unique combination of language and love, "It's easy for me to make connections there; there's some stuff in life that even though it seems really random that you fall in love with," she explained, and, as a result, "Ethiopian languages are something I want to research." 
Ultimately, Ethiopia is what led her to apply, under the guidance of Rusty Barrett, to City University of New York (CUNY) to study with renowned phonologist and endangered language specialist Juliette Blevins. Yi is interested in learning Amharic, the national language of Ethiopia, in addition to finding speakers of some of the 84 languages of the country. She hopes that New York City is the place where she can accomplish that goal. "New York is linguistically the most diverse area in the world," she said, "I can find an Ethiopian church, I can make connections, and I can find the speaker group I want to study." 
Yi's story is tinged with optimism. She wants to encourage other students to experiment with different areas of study if they haven't yet found something they feel they love to do. "I want other students to be encouraged to feel a responsibility with their gifts – sometimes it's hard, sometimes they get challenged, sometimes they feel like they're not good enough, but to continue."
"If they have found something that they like and at the same time can do well at it, they have almost an obligation to develop that gift," she explained, "That's my life philosophy."
by Hannah LeGris
photos courtesy of Seung-yeon Yi