Computational Lab
Info coming soon.
Linguistic Atlas Project
The Linguistic Atlas Project (LAP) was founded in 1929 at the behest of the American Dialect Society and remains the most thorough and expansive study of American English undertaken to date. The LAP consists of several sub-projects, divided by geographical region. Each project represents the collection of linguistic data (vocabulary, grammar, and pronunciation) in the form of dialect interviews, data for which is available on the LAP website (linguisticatlasproject.org). The concept behind the Linguistic Atlas is to paint a comprehensive picture of American English, a picture that highlights variation and points to connections between language and various social, cultural and historical factors. Given its breadth and depth, the LAP offers researchers and interested persons a chance to look at how language varies from place to place and at how language changes over time
Phonetics Lab
The UK Phonetics Laboratory is a resource for anyone at the University of Kentucky conducting experimental linguistics research. The lab features state of the art support for acoustic, eye tracking, ultrasound, and reaction time research all connected to a pool of high end linux workstations. The lab can accommodate voice recordings, articulatory measurements, speech perception, reading, and many other research methodologies for lone participants, two to three participants working together in the same booth, or for two groups of participants collaborating from separate, sound-attenuated booths. Please visit the lab's web page: http://phonetics.as.uky.edu/ if you are interested in participating in one of our ongoing research projects.
Research in Computing for Humanities (RCH)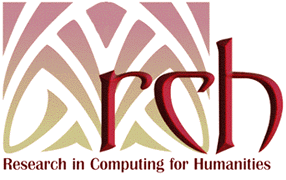 The Collaboratory for Research in Computing for Humanities (RCH – rch.uky.edu) was founded at the University of Kentucky in 1999. Under the directorship of Mark Richard Lauersdorf, the mission of the RCH is to provide physical and computational infrastructure, technical support, and grant writing assistance to university faculty and students who wish to undertake digital/computational projects in the humanities, social sciences, and fine arts, and to encourage and support interdisciplinary projects among individuals and groups from UK and around the world.
The Linguistics Program is an Affiliated Program of the RCH and as such engages in collaborative activities and projects utilizing the resources of the RCH. Linguistics researchers (both students and faculty) working on digital/computational projects have direct access to the rooms and equipment of the RCH which can be fully customized for the specific needs of individual linguistic research projects. Examples of projects that have utilized the resources of the RCH for customized linguistics research include:
construction of customized linguistic corpora (from both digital and hard-copy sources);
mining of language data from online social media platforms;
installation and use of custom software and datasets for text mining and textual data analysis;
access to restricted datasets in a secure environment;
recording of interviews in a quiet setting for sociolinguistic investigation and creation of oral corpora;
digitization of analog materials (audio, video, image) for building digital datasets;
The servers of the RCH are also available for the data storage needs of Linguistics research projects and for public dissemination of project resources and results through publication on the web.
Computational Tools
Internal Resources